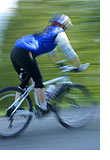 Mayflower Iron Women
Strong Body, Strong Mind.
A glorious sense of balance, achievement and strength. Sunday, October 15 - Friday, October 20, 2006
A Mayflower Destination Spa week that challenges your physical edge with a boot-camp level of activities—whether your goal is to jump start your fitness program or prepare for an event.
Your fitness challenge will incorporate the disciplines of the triathlete—swimming, cycling and running, and other activities such as yoga for athletes, cardio-tennis and more.
Led by an expert training team, this is an opportunity to bond with like-minded women to enjoy the adrenaline as well as the physical and mental challenges.
This specialty week includes Mayflower Destination Spa's customary luxurious treatments and mind~spirit activities as well as healthful spa cuisine specially developed to fuel the active woman.